DO PREGNANT WOMEN REALLY NEED A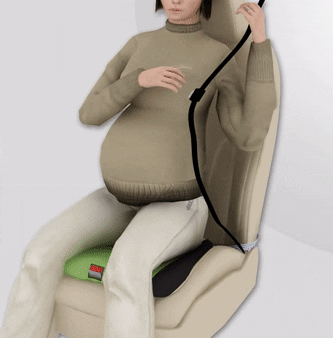 - It Easy to Use and Saves Life, Nothing Worse than Losing a Child.
- Safety bump belt adjuster makes the belt sit across the thighs, instead of over the belly which causes much discomfort for growing bellies.
- It allows pregnant driver to focus on driving, as well as makes pregnant passenger more comfortable and safer
- It is easy to install, and doesn't take extra time to unstrap and re-strap so that it is more practical for daily use
pregnancy Linked Car Crash Risk: Study
In a word, YES. More than 240,000 pregnant women are involved in car accidents every year, resulting in thousands of lost pregnancies or injuries to the baby. Some of the injuries can cause pregnancy complications which can be life-threatening to the mom-to-be. You see, the existing seat belt system was not designed or tested to protect women who are driving while pregnant; in fact, according to the National Highway Traffic Safety Administration, the current seat belt system exposes an inherent risk for injury, or even death, to an unborn baby.
This is because the standard seat belt is designed to secure an occupant in the car seat by engaging the hip bones. However, beginning at the start of the second trimester, your unborn baby moves above and in front of your hip bones—directly beneath the seat belt. When engaged by an accident, or even a sudden stop, the belt compresses with extreme speed and force, violently displacing and even crushing your unborn baby.
You'll spend hundreds in car seats to protect your baby after it's born yet unborn babies are at least at 5 times the risk in the car. Tummy Shield is like an affordable insurance policy that gives you peace of mind knowing you are doing everything you can to protect your baby during pregnancy too with Baby's First Car Seat™.
Only maternity seat belt positioner that is strength tested and crash tested to ensure it will withstand crash energy and the seat belt will still work as intended.
Plus, makes driving while pregnant much more comfortable.
What's Changed When You Using
Belt Adjust?
The Advantages of Maternity Car Belt Adjuster
For anyone having had abdominal or stomach surgery, caesarean section, it can help reduce discomfort and pain safely.
It's so easy that it doesn't take extra time for pregnant mothers to unstrap and re-strap each time when getting on or off the car. Therefore, it is more practical for daily use. You won't need to bend your head to look check for being fastened.
The car Seat belt adjuster is designed for use by women 3 months into their pregnancy until the time the baby is born.
If you are switching seats/cars a lot, (like from driver to passenger, or own 2 cars or more), we recommend buying two in one time, so you don't have to remove & install it every time.
The Pregnant Seat Belt Adjuster just changed your original selt belt's position. The original seat belt still protect your safety.
Anti-loosening hook. It will make the seat belt adjust alway keep in comfortable position when you using the seat belt adjust.
Are you ready
Nothing Worse than Losing a Child?